Today, I am linking up with Leigh over at the Applicious Teacher.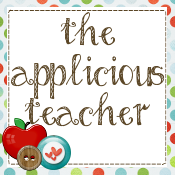 Our topic for today is...
CLASSROOM MANAGEMENT




If you've been following my blog for a while, you know I have a puppy theme in my classroom. For classroom management I use the clip chart system, with a twist. My levels are dog houses!
The children all start on Green (Doggone Good) and either clip up for good choices (Top Dogs, Best in Show), or down for poor decisions (Kennel Time, The Pound). At the end of the day the children color in their calendars to reflect their color. This provides their parents with clear communication on their behavior for that day.
The clip chart and Behavior calendars for 2013 can be found in my 'Doggone Good Behavior' Pack:
Once my students have achieved five or more clip-ups (to blue or purple) they've earned a treat. That treat can either be a prize from my treasure box, or a reward from my 'Behavior to Bark About Catalog.'
The catalog contains rewards such as jump to any spot in line, wear a hat to school, sit with a buddy in a booth at lunch, etc. But my kids favorite was the super supplies reward. I don't have a picture, but I took a regular pencil box and decorated it with glittery smiley face stickers. Then I filled it with sparkly crayons, crazy cut scissors, markers, colored glue sticks and other fun supplies. My students loved earning the right to use those special supplies for a day!
Make sure to link up if you have cute ideas for behavior management!